Until recently, 2NE1 was the only girl group I was interested in.
But since I like After School's title "
Because of you
", I decided to watch their other performances.
These girls are some charisma, they dance quite well and most of them can sing!
Now, I can say it aloud... I'm a
Playgirlz
! I'm gonna explain why I like them so much.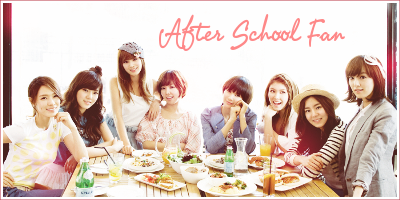 I love every single member but I have a little preference for Raina and Kahi though.
Kahi is a fierce woman with a dream body,
she excels at dance
, she has a good and constant voice and she can rap.
Moreover, she's a great leader with a great presence, this girl can do anything!
She's going solo soon for the After School sub-units, I can't wait to hear her.
Raina... ah Raina, I've totally succumbed to her voice and she's so pretty with her round face! >_<
She's the one with the most powerful and beautiful voice of the group
, she's a great asset now.
Jung Ah is the soft voice
, she looks so mature and all (and I think she looks a bit like Uhm Jung Hwa and that's a compliment).
I think I prefer when she has long hair...
I was kinda indifferent to Bekah at first, but the more I see/listen to her, the more I love her!
She actually has a good and pretty voice
and she's got some attitude, like Kahi ♥
It was the same for Nana, I thought she was pretty but that's all.
Her long blond hair suit her well I think and
she can sing
... trot, I love trot!!!
UEE, I got some issue with her because I thought she looked really strict and severe.
And I saw her in You're Beautiful where her character was really not likeable.
But it grew on me and I like seing her smiling in the Diva MV or on TV shows.
There's only one thing... she's definitely the worst at singing xD
Ju Yeon absolutely can't sing but she's pretty pretty, especially with short hair, llike in the Bang MV.
But they found the solution at Pledis, the volume of her mic is lower than the others xD
Since Lizzy has just come, I don't know her well but I saw the video where Pledis introduces her and
she has a lovely voice
.
UEE is gone for now because she's shooting a new drama but now, on 8 members, there are 6 of them who can sing well! Yeepee!
Kahi, Raina, Jung Ah & Bekah

Kahi & Bekah duet
Raina & Bekah duet
Kahi & Jung Ah duet
"Because of you" is my favourite song from them, I still listen to it a lot.
"
When I fall
" has a slower rythm but it's beautiful.
I'm not a big big fan of "
Bang!
" but there's a moment I absolutely adore: the Kahi+Raina part.
"
Ah!
" is a funny song and "
Diva
" just makes you wanna dance!
Okay, I stop it for now... I'll just patiently wait for their comeback.